Model Year 1982 "JEANSBUG" (Special edition S704)
A new Jeans edition, the "Jeans Bug" goes on sale in the spring 1982 (S704 Jeans Bug). As the whole production of Beetles since 1978, it was constructed in Mexico, at the factory of Puebla and imported in Europe. Mexican beetles have the particularity to have a rear window smaller than the European models. It's the same rear window that the german versions between 1965 and 1971. The rear valance is once again flat. Other notorious modifications: the dual-circuit brakes system have a warning light on the dashboard and the screenwhasher is now electric !
Approximately 1000 (*) Jeansbug were built and were sold to the price of 9995 Deutchmark.
*(source: "Mexico Kafer" book, Alexander Franc Storz)
Bodywork:
2 colors available in 1982.

| | |
| --- | --- |
| | |
| VW paint code : LA3A Mars Rot | VW paint code :L90E Alpin weiss |
Declined in two colors, Mars red and Alpine white, Jeans Bug receveid traditional elements finished in black. It receives also a Jeans Bug logo on the rear side panel and the engine cover. There is also a black and red stripes on the door .

Interior/equipments:
The upholstery is in blue cloth. Front seats have adjustable head restraints, Backrest receives the traditional pocket and a leather Jeans patch is sewn on to the side of the backrest. a Jetta gear lever have a Jeans logo. Doors panels are in blue vinyl. The white headliner is a large model and the dashboard is padded. JeansBug are equipped with a "Salzgitter" radio.
M-codes for S704 edition (Seen on a Swiss S704 - thanks to Jérôme Piguet)
M133:
?
M183:
Lap belts for rear seats
M184:
3 point safety belt - front seat
M218:
Wheel trim rings
M258:
Headrests for front seats, adjustable.
Wheels:
Standard wheels with black hubcaps.
Chassis:
Front axle with torsion bars.
Brakes: Dual-circuit brake, 4 drums.
wheelbase: 2400 mm.
Chassis numbers: 11C000001 - 11C009836
Engine: 1200 / Identification letter: D
Bore (mm): 77


Stroke (mm): 64
Effective capacity (cm3): 1192
Compression ratio: 7,0
Maximum power: 34 hp at 3600 rpm
Maximum torque: 84 Nm at 2000 rpm

engine numbers: D 1479925 (1st August 1981) - D 1489760 (31 july 1982)

Electricity: 12 volts.

Booklet:

Germand brochure

4 Dutch advertisements for the 1982 Jeansbug.

---
April 1, 1983. Switzerland applied a new strict law on the noise of the exhaust pipes. A lot of cars won't pass this test... of which the Volkswagen Beetle ! March 31, 1983 the last Beetle was sold therefore in Switzerland. It was a Alpin white Jeans bug registered BE 320637, this number represented the number of Beetles sold in Switzerland since 1948 !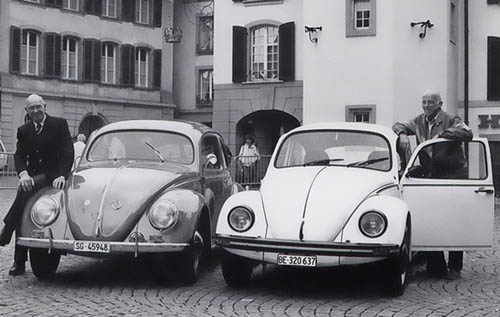 On the left, the first Beetle sold in Switzerland in 1948. On the right the last Helvetian Beetle... a beautiful Jeans Bug of 1982 ! the two beetles are here with their respective owners.
---