Model Year 1975 Jeans III (special edition S744)

In October 74, The third production of Jeans ( S744 Jeans III, models 111 and 112 ) receives the modifications brought to the Beetle for the model year 1975. the front indicators disappears of the summit of the fenders to come on the front bumper, new headlights, the rear valance is now curved. As its eldest of 1974, Jeans 75 have elements finished in black and receive on the side of the car, the same black adhesive stripe with the motif "Jeans".
4000 Jeans III were produced (see below the birth certificate of the Carsten's Jeans beetle)
The production of the beetle ends July 1st, 1974 at 11h19 from the factory of Wolfsburg. 11 916 519 beetles have been built there since 1945. the Beetle is now produced in the Hanover, Emdens and Brussels factories
Bodywork:
colors in 1975: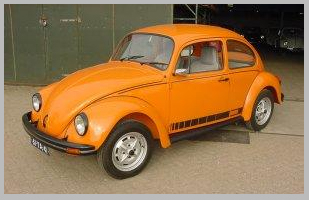 L20C Nepalorange
L28N Orange, L20B Leucht Orange and L16M Tunis Gelb were also indicated.
Equipments:
Jeans 75 are equipped of: H4 halogens headlights, heated rear window and a rear fog light. The options can vary according to the country of delivery
Interior:
Most models receive a padded dashboard. The headliner is a white short model, the sun visors are white too. It seems that all Jeans 75 don't have been equipped of seats with head rests.
VW certificate for a Jeans beetle constructed December 9, 1974 for the french market. Note that this Jeans have been constructed in Belgium.
Thanks to Olivier Millon for the certificate

Equipments:
M123:
Without radio pre-equipment
M124:
Yellow headlights (french market)
M173:
Radial tires 155 SR 15
M228:
Dash panel cover
M976:
Sport wheel Lemmerz "GT" 4½J X 15
S744:
Special edition Jeans




Z06 M-Package:

includes the following equipments



M040:
Fuel gauge indicator in speedometer
M102:
Heated rear window
M167:
Front passenger handhold and clothes hook
M206:
Inside day/night mirror
M282:
Front passenger sun visor pad
M610:
12 Volt system





VW certificate for a Jeans beetle constructed October 16, 1974 and livery in Darmstadt, Germany.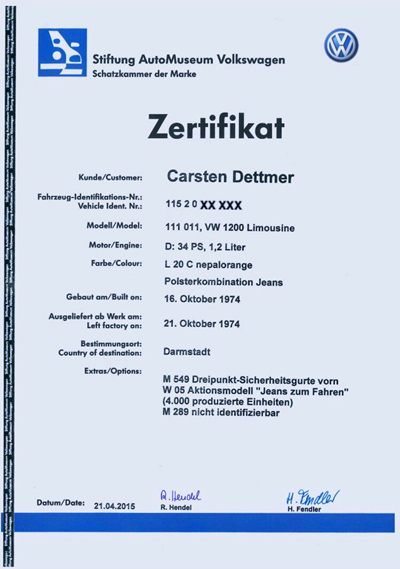 Thanks to Carsten Dettmer for the certificate
Equipments:
M549:
3-Point seat belt
M289
Breakaway screws on steering-wheel lock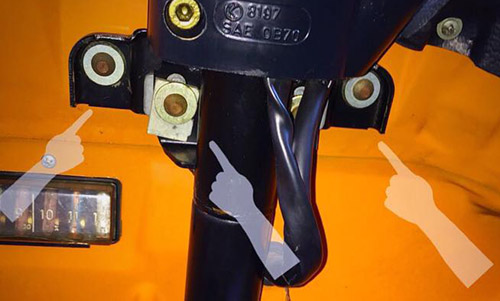 Mcode M289 (photo Carsten Dettmer)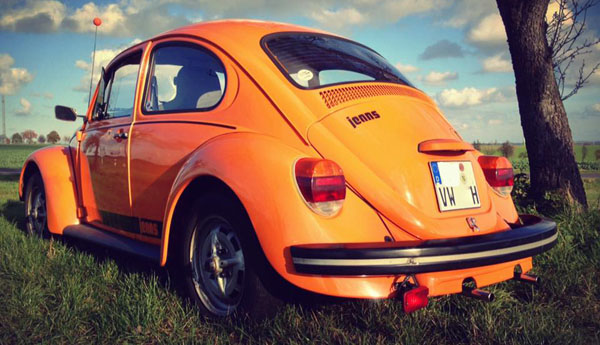 (photo Carsten Dettmer)
Wheels:
Lemmerz "GT" en 4½J X 15.
Mecanical
Chassis:
Front axle with torsion bars.
Brakes: Dual-circuit brake, 4 drums.
wheelbase: 2400 mm.
Engine: 1200 / Identification letter: D
Bore (mm): 77


Stroke (mm): 64
Effective capacity (cm3): 1192
Compression ratio: 7,0
Maximum power: 34 hp at 3600 rpm
Maximum torque: 84 Nm at 2000 rpm



Electricity: 12 volts system, with alternator.
Identify a 1975 Jeans

Here are some information to recognize a 1975 Jeans beetle.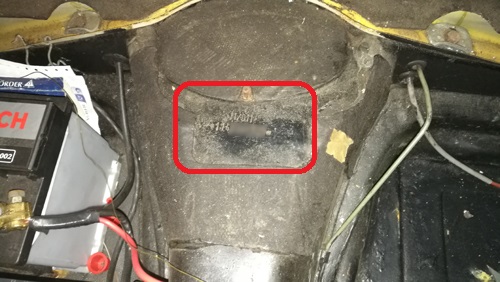 the chassis number is near the battery.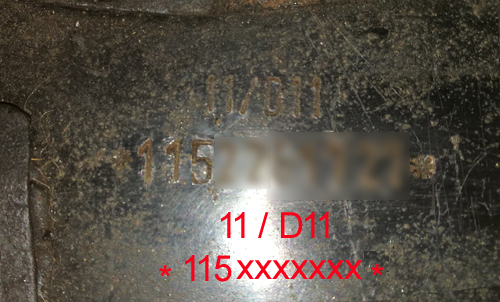 the chassis number must start by 115 (5 for model year 1975),
followed by 7 digits.

The production plate is located on the front apron, near the bonnet lock. It gives interesting information:

the color and date of production of the beetle. For the date, you will find all the information here:

production plates decoder of SE Beetles website.
The characters L6, placed vertically, indicate the color L20C Nepalorange


Very interesting element, this card giving details of the car, like options (M equipments also called M-codes). this card is sometimes present with the documents of the beetle, kept by its former owners.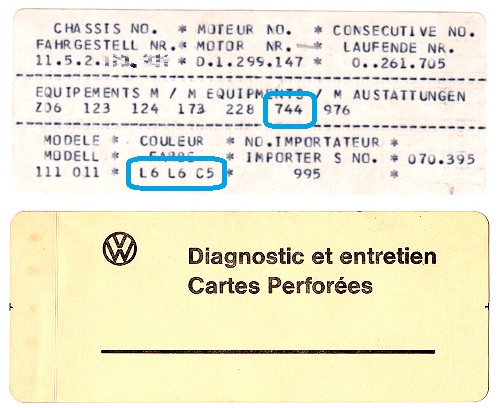 On the first line, the chassis number, engine number, and an unidentified number.


On the second line, the equipments (options) present on the beetle. They are defined by the M-Codes.
- Z06
M-Package (see birth certificate above)
- 123
M123 Without radio pre-equipment.
- 124

M124 Yellow headlight bulb (french market)
- 173
M173 155-SR-15 tyres.
- 228
M228 Dash panel cover
-

744




M744 Special edition S744 Jeans III



- 976
M976 Lemmerz "GT" wheels


On the third line, different infos as the model of the beetle.

111 011
111 left hand drive, 011: 1200 engine.
L6 L6 C5

L6 color L20C Nepalorange, C5 code for the upholstey in

blue jeans fabrics

.
995
Importer numero

Brochures: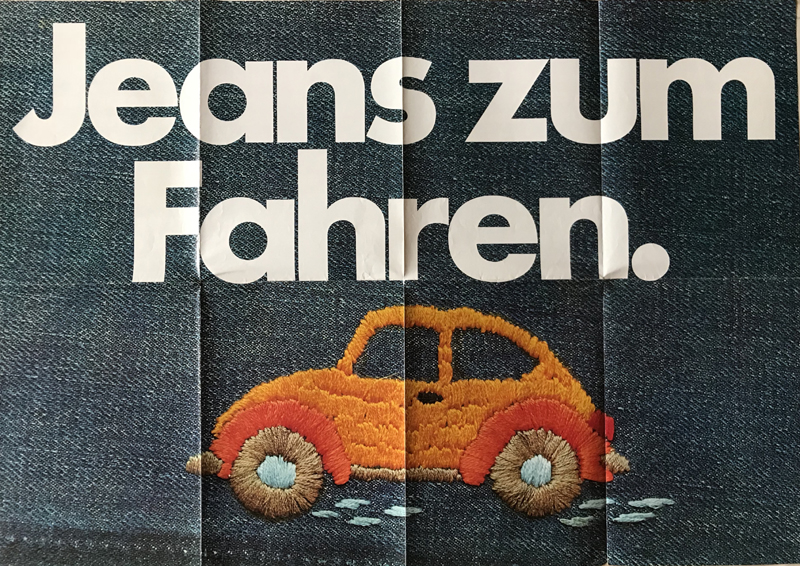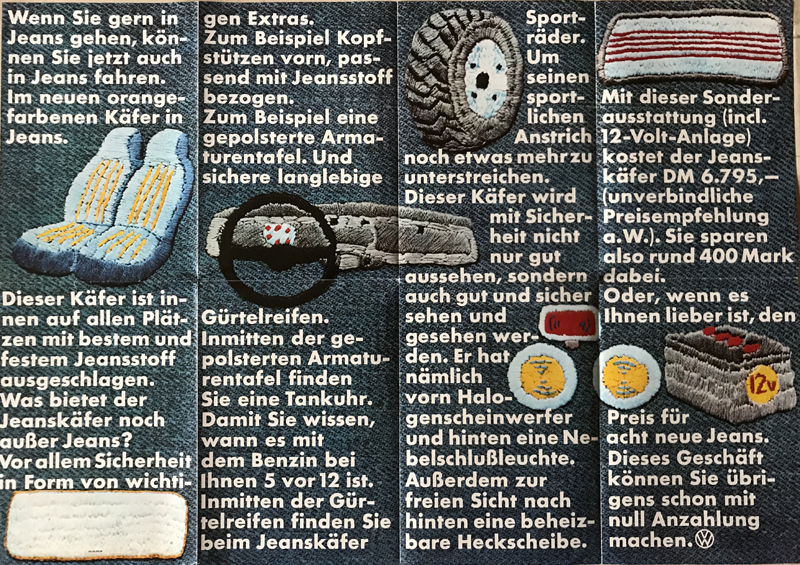 Courtesy Carsten Dettmer

Brochure for Jeans year-model 1975 (Germany, 1974.)
Press: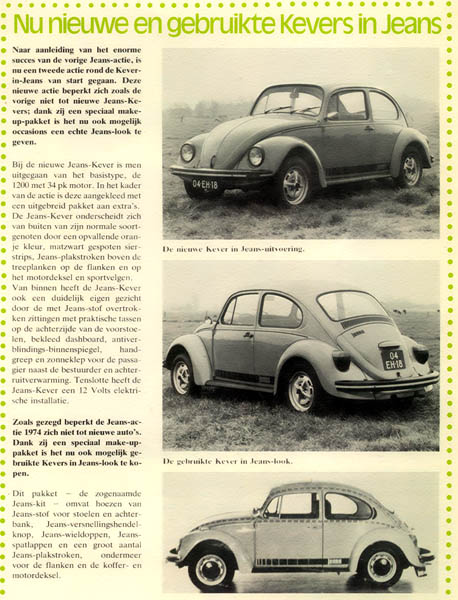 Dutch article of the model 1975. Note, at the bottom of the page, the presentation of the "Jeans Kit"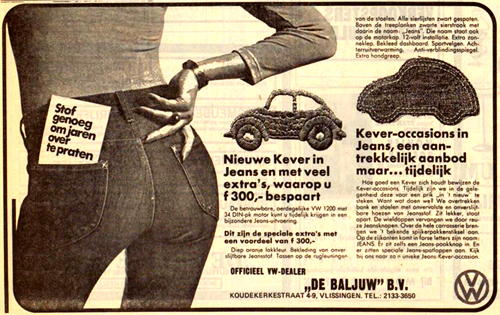 👖

Dutch advertisment of the model 1975 and the Jeans kit in the newspaper "De Scheldebode" dated december 4, 1974.
(Marco, Jeans Bug Kever, Facebook

)



---