Model Year 2000 "JEANS EDITION" (Mexico)
It's while searching for some infos about the 1995 jeans beetle that I discovered the 2000 model named "Jeans Edition". It's produced to the Puebla factory and is destined to the Mexican market. This Jeans beetle is completely covered with the beautiful Baltic blue with the exception of the exterior mirror and the windows frame. The bumpers are underlined of a black stripe. Only a small sticker "Jeans Edition" surrounding the alarm contactor signals the special edition. Mechanically, Jeans 2000 are similar to the rest of the production and the motor is a 1600 injection.
1000 (*) Jeans Edition were built.
*(source: "Mexico Kafer" book, Alexander Franc Storz)
Bodywork:
Only one color for the Jeans model year 2000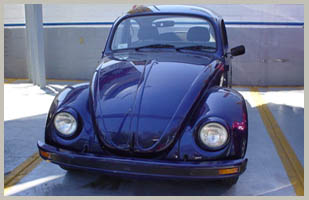 Azul Baltico
Interior:
Jeans cloth upholstery and blue doors panels.
Wheels:
Aluminium sport style wheels.
Chassis:
Front axle with torsion bars.
Brakes: Dual-circuit brake, disc brakes on the front wheels.
wheelbase: 2400 mm.
Engine: 1600 injection
Bore (mm): 85,5
Stroke (mm): 69
Effective capacity (cm3): 1584
Compression ratio: 7,7
Maximum power: 46 hp at 4000 rpm
Maximum torque: 94 Nm at 2200 rpm

Electricity: 12 volts, with alternator.

Booklet

Advertisement "Unique size" for the sedan Jeans 2000.

---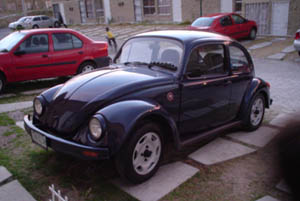 Yuri's Jeans 2000
Special thanks to: Yuri Ayala "Jeans Edition", Francisco "Xolotx" and "Mr Kitch" of the Vochoclub forum. Thanks also to the Mexican community of the Vochoclub for the help. Muchas gracias amigos!
Gracias a Yuri Ayala "Jeans Edition", Francisco " Xolotx" y "Mr Kitch" del foro del Vochoclub. Gracias también a toda la simpática comunidad mejicana del Vochoclub por su acogida. ¡ Muchas gracias amigos!